Welcome to CanPacers!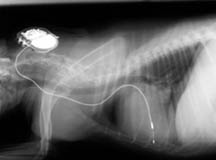 Our mission is to provide cardiac pacemakers and leads for veterinary patients.

At this site, you will find information about pricing, available systems and directions for ordering a pacemaker for implantation into your patient.


CanPacers is a non-profit repository sponsored by the American College of Veterinary Internal Medicine (ACVIM) Cardiology subspecialty, and maintained by Dr Kate Meurs at North Carolina State University.
CanPacers no longer accepts donations of previously implanted generators. All CanPacers generators are unused.
Feel free to browse through our site. If you want more information, about our practice please go to the Contact Us page and use one of the convenient methods to communicate with us.

Thanks for visiting and we look forward to serving you.
Inventory Updated: 7-14-14